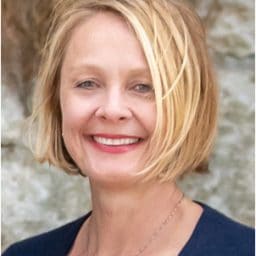 Karyn Hodge joined the Mountain West Hearing team in 1999 after completing her Master of Science in audiology from the University of Utah. In 2017, Karyn earned her Doctor of Audiology from A.T. Still University. She is board certified through the American Speech-Language-Hearing Association and enjoys staying up-to-date on technological advances and audiology topics through continuing education. Karyn has worked in several ENT clinics in the Salt Lake Valley and has experience with balance testing, audiological evaluations, hearing aid selection, aural rehabilitation and tinnitus management for patients of all ages.
Karyn is passionate about enriching the lives of her patients through improved hearing and communication. She realizes there are many options for hearing amplification and believes in going the extra mile to find the best solution for every patient. Along with her time in ENT clinics, Karyn has experience working in the industrial audiology field and has worked in numerous hospitals in the Salt Lake Valley performing newborn screenings and creating intervention programs.
When not working, Karyn can be found with her husband and two children enjoying Utah's great outdoors or travelling.